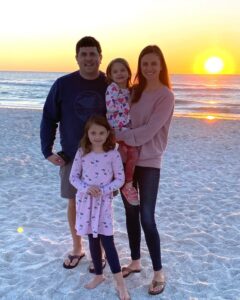 Dr. Dan Sturdevant serves as the Head of School at Optima Academy Online.  Raised on a boarding school campus where his parents served in various roles from classroom teachers, coaches, and dorm parents, to senior administrators and Head of School, Dr. Sturdevant has been in and around formal education for his whole life.
Upon graduation from Wheaton College (IL), Dr. Sturdevant moved to Charlotte, NC to begin his own teaching practice at Providence Day School.  Within a few years, he married Christa (also Dr. Sturdevant) and moved to Raleigh, NC, where he continued teaching and earned a masters degree in liberal arts at Duke University.  At Duke, Dr. Sturdevant's research was focused on identifying primary skills for future student success, and the learning environments in which they are best developed.
After Duke, Dr. Sturdevant went on to UNC Chapel Hill, where he earned a doctorate in Educational Leadership.  At UNC, in addition to completing coursework focused on effective academic and organizational leadership, Dr. Sturdevant completed a dissertation that evaluated charter schools in North Carolina and assessed their objective efficiency using financial data and student performance outcomes.
Dr. Sturdevant is committed to experiential education, student success, and building effective and healthy school cultures.  He has spent over a decade in the classroom, and has experience leading schools of all grade levels.  He firmly believes in the mission of Optima Academy Online, and the power of a classically aligned education – delivered in virtual reality – to shape a virtuous and successful next generation.
Outside of school, the Drs. Sturdevant have two wonderful daughters and enjoy spending time together outside, hiking, biking, and exploring new places.